HardTrack Mobile with Tablet and Bluetooth Reader
Monitor concrete temperature so that your concrete pour stays within the specified Thermal Control Plan (per 207.4R-05 ACI). HardTrack's monitoring system uses RFID (Radio Frequency Identification) which allows you to receive the in-situ temperature of the concrete wirelessly. You can embed the tag and read the temperature data right through the concrete or connect sacrificial sensor probes.
---
HardTrack Mobile allows for safe wireless collection of temperature logs at your job site.
---
With HardTrack, you have RFID with built in temperature logger and no more broken wires!
---
You will be amazed at how simple wireless concrete maturity has become with the use of RFID.
---
• Bury the RFID tag or just the sensor probe.
• Cover it with concrete.
• The RFID tag collects the temperature data.
• Retrieve the data as frequently as you wish.
• Nothing to hook up!
• Loggers last for 5+ year!
---
Want to take the next step to save construction time and money?
---
HardTrack will automate the process of determining Concrete Maturity according to ASTM C1074 without the need to visit the job site several times per day.
---
Fifty years ago, engineers discovered the many advantages Concrete Maturity had over the destructive process of measuring the strength of the concrete. However, because there were so many problems inherent in the capture of in-situ temperatures using sensors and wires, Concrete Maturity has been slow in being accepted.
---
Compared to the destructive method where you break the cylinders or beams, concrete maturity is:
---
• Easier
• Safer
• Faster
• More Reliable
• More Accurate
• Cost Effective
---
Why HardTrack Mobile with Industrial Handheld?
---
– Work from your Truck or Construction Office while reading your wireless tags
– comes with a 7" Windows 10 Tablet
– Works with any Windows Tablet or Laptop
– Wireless Sensors
– Easy Upload to your Windows PC & the Cloud
– Allows for safe collection of logs while at the Project Site
– No limit to the number of wireless sensors
– Access to the powerful HardTrack Desktop solution
– Export to Excel with Color Graphs, saving you hours of report creation
– Configure your own HardTrack Web Reports with Graphs
– Easily share information with your Associates with the HardTrack Cloud using a simple secure email link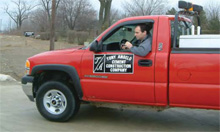 This engineer is receiving his concrete temperature data while sitting in his truck at the side of the road.
Reduce cylinder samples by 70%+ using Concrete Maturity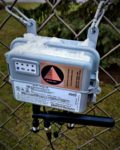 Access Your Temperature Logs Remotely
Take advantage of HardTrack Cloud Sensor, with the added ability of accessing your Temperature Logs remotely. Deploy the Cloud Sensor device at the construction site and head back to your office. You will be able to access your temperature logs easily from your PC and HardTrack will alert you if any sensor reaches a minimum or maximum temperature. This will save you time, money and free up your Engineers so that they are available for other value added activities. The HardTrack Cloud Sensor comes with (5) Temperature Sensor connections, including (1) built-in Ambient Temperature Sensor and (4) connectors whereby you can attached sensor probes with cable lengths ranging from 1 meter (3.28 ft.) to 100 meters (328.08 ft.). A single HardTrack Cloud Sensor can cover most concrete pour thermal control monitoring requirements.